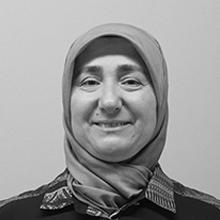 Nurgül Dürüstkan Elbaşı,

Dr.

Faculty Member
She graduated from Istanbul University Cerrahpaşa Medical Faculty in 1985. She completed specialty education in Anadolu University Faculty of Medicine Physical Medicine and Rehabilitation Department. Until 2006, she took part in Istanbul Physiotherapy and Rehabilitation Training and Research Hospital specialist doctor staff. In addition, she served as a board member at Private Incirli Hospital for three years. Between 2007 and 2016, she worked as a responsible doctor and institution manager at Bayrampaşa Municipality Physical Therapy and Disability Rehabilitation Center. Between 2012-2016, she worked as a lecturer at Istanbul Aydın University, Vocational School of Physical Therapy. She has been working as a faculty member at ISU Faculty of Health Sciences Physiotherapy and Rehabilitation since 2016. She has several publications on Physiotherapy and Rehabilitation. She took part in the founding staff of many civilian organizations; Sağlık-Sen, founder of the Istanbul branch, Member of the Board of Hayat Health and Social Welfare Foundation, Turkey Spinal Cord Injury Association Board Member. In addition, she established the first physical therapy unit in IBB Kayışdağı Darülaceze. She is the founder and responsible for Hüsnü Ayık Private Nursing Home, which was established by TOFD for Spinal Cord Paralytics.
Research Areas: Disability Rehabilitation, Civil Society Organizations
Main Areas: Fizyoterapi ve Rehabilitasyon,
2010 - post partum osteoporosis
DÜRÜSTKAN ELBAŞI NURGÜL.
turk J rhematoloji,
1997 - the functional ındepence measure in spinal cord injured patients
DÜRÜSTKAN ELBAŞI NURGÜL.
spinal cord,
fizyoterapi teknikerleri için fizyoterapiye giriş
2017 - Türkçe, Ders Kitabı
ISBN: 978-605-335-299-0


DÜRÜSTKAN ELBAŞI NURGÜL,erhan belgin,coşkun çelik evrim